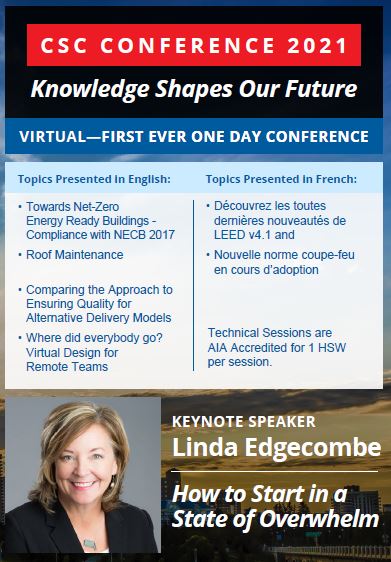 presented by
CSC SASKATOON CHAPTER
This virtual one day event will cover such topics as:

Towards Net-Zero Energy Ready Buildings - Compliance with NECB 2017

Roof Maintenance

Comparing the Approach to Ensuring Quality For Alternative Delivery Models

Where did everyone go? Virtual Design for Remote Teams
The following will be presented in French:

Technical sessions noted above are eligible for 1 AIA HSW Credit for each 1 hour session.
Keeping with CSC tradition there will be a keynote presentation by Linda Edgecombe a Resiliency Expert , Motivational coach and a Proud Disruptor of the Status Quo. Linda is an internationally renowned, award-winning speaker. She was just included in the Top 60 Motivational Speakers in the World by hunger2succeed resources. Linda will tell us How to Start in a State of Overwhelm: We're all just so "BUSY" these days. "Slammed." "Buried," in fact. Desperately trying to "keep our heads above water." And this while homeschooling, endless ZOOM Meetings and very little time to just take a break. "How are you?" Oh, "fine." Many of us are Not Fine, not these days. Literally causing accidents in our workplaces and our homes. This presentation will touch on CHANGE; CLUTTER; FATIGUE: CLARITY; OVERWHELM and LAUGHTER.
Costs $25.00 for CSC Members
Registration closes May 26, 2021
*Session topics and time are subject to change without notice
* No refunds after May 20, 2021