Healthy Nutrition for Busy Professionals
CSC Wellness Seminar
October 21, 2020 | By Administrator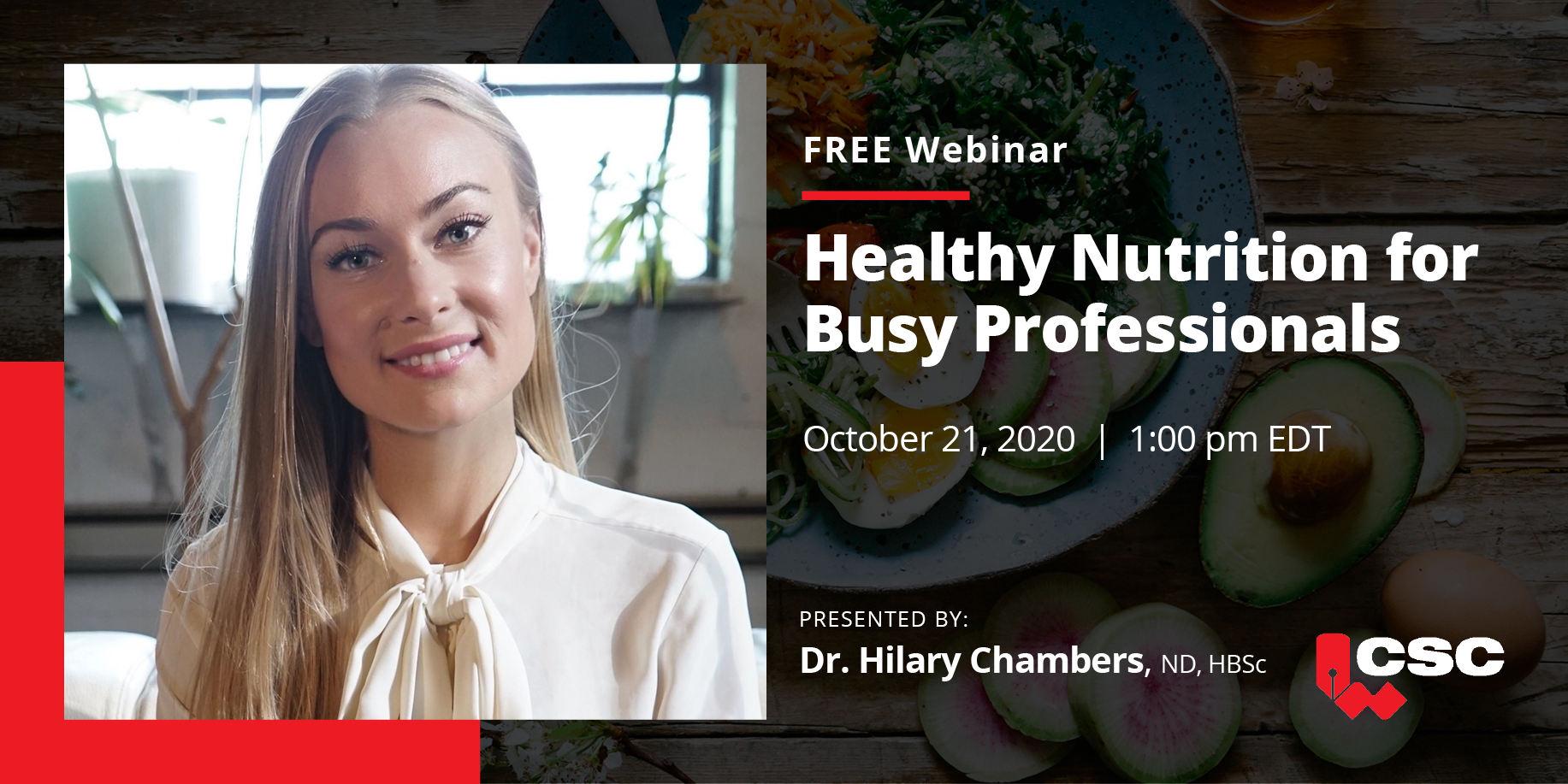 Healthy eating can be difficult, especially when you're busy! It may seem easier to reach for the quick, carby meal, but poor nutrition can lead to low energy, weight gain, bowel issues, insomnia, frequent cold and flu, and more. Even when we try to eat healthy, there are so many conflicting views about nutrition that it can be difficult to know what's best.


In this interactive seminar we will sift through the myths and truths about what's healthy, what to avoid, and how to make sure your body is getting the nutrients it needs. You will learn delicious, simple, family-friendly recipes to boost your nutrition and improve your health.

Seminar Topics Include:
Top nutrients missing from your diet
Keeping blood sugar balanced
Anatomy of a healthy meal
Snacks to boost energy
How to beat cravings

About the Speaker: Dr. Hilary Chambers, ND, HBSc

Dr. Hilary Chambers is a licensed and registered Naturopathic Doctor practicing in Toronto. She uses evidence-based natural therapies to treat the cause of each patient's health concerns. She has a clinical focus in treating digestive health and autoimmune disease.

Prior to pursuing her Naturopathic career, Dr. Chambers graduated with an Honours Bachelor of Science with a Specialization in Physiology from Western University, where she received the Gold Medallion Award for the highest academic achievement in her program.


Dr. Chambers earned her Doctor of Naturopathic Medicine degree at the Canadian College of Naturopathic Medicine in Toronto. She has since received additional certifications in Prescribing Therapeutics, as a Naturopathic Doula, and in Intravenous Nutrient Therapy.


Dr. Chambers is an avid writer and speaker, and she has recently partnered with Healthology as their Chief Spokesperson and Education Ambassador. She is passionate about teaching and inspiring people to achieve their health goals.
Space is limited. CSC Members will be given preference/priority.
By registering for this event you consent to receiving emails from CSC.
If you wish to opt out, please email socialmedia@csc-dcc.ca