Introducing the 2020 College of Fellows Inductees
May 29, 2020 | By Nick Franjic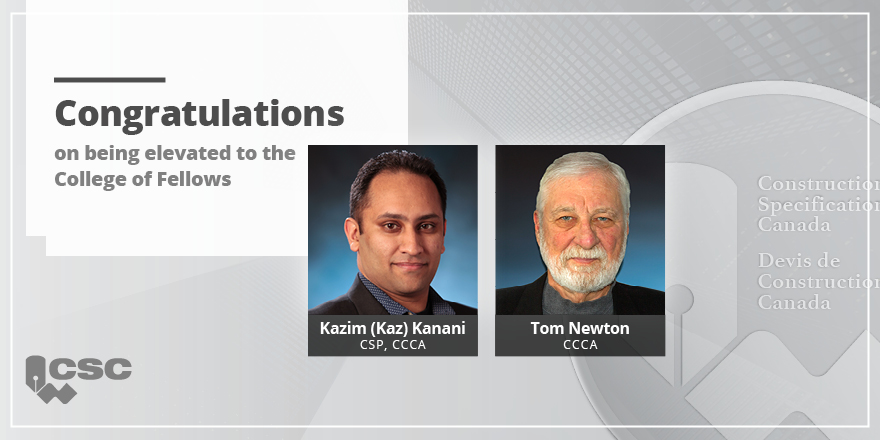 Investiture into the CSC College of Fellows honours a member's achievements and contributions to the profession and the association. The College of Fellows is composed of members who have demonstrated outstanding and exemplary professionalism, exceptional scholarly contribution, leadership and distinguished service to the profession and the broader design + construction community.

The nomination process requires that a letter of support for the candidate's nomination to the College be provided by seven members representing no less than three chapters. Of the seven members, three must be members of the College.

We are honoured to announce that Kazim Kanani, CSP, CCCA of the Toronto Chapter and Tom Newton, CCCA of the Calgary Chapter have been nominated and elected to the College of Fellows.

Induction into the College of Fellows occurs during the annual conference. Unfortunately, due to the circumstances surrounding the COVID-19 pandemic, Conference 2020 has been cancelled and these individuals will be inducted formally into the College at the 2021 convocation ceremony in Saskatoon, SK. Below, please find excerpts from each of the candidate nominations.

Kazim (Kaz) Kanani, CSP, CCCA
Kaz has been a CSC member since 2007 and achieved his Certified Specification Practitioner designation in 2014 and his Certified Construction Contract Administrator designation in 2016. He is presently a Senior Associate and Specification Specialist at Quadrangle Architects in Toronto.

His involvement with CSC commenced shortly after becoming a member, serving in various capacities on the Toronto Chapter Executive Committee which led him to becoming Chair for a two year term in 2014 and subsequently, Director, representing the Toronto Chapter at the Association level in 2016. He was elected to the Executive Council in 2018 and is currently serving as Vice President. Kaz has also served on numerous Association Committees including Marketing, Education Program Advisory Committee, Technical Studies and Conference. Keeping the Association and profession in mind, Kaz firmly believes in improving not only the Association, but the design + construction community. This is evidenced by the numerous initiatives that he has launched and undertaken with the support of his peers.

In addition to his involvement with CSC, Kaz has served on the Board of Directors for the Ontario Building Envelope Council and is presently serving on the CANstruction Toronto Board.

Kaz has received many accolades for his involvement, commitment and dedication towards CSC and the betterment of the design + construction community. His list of accolades include numerous Chapter Awards of Merit from the Toronto Chapter, multiple National Awards of Merit, President's Award, numerous Russell W. Cornell Awards and multiple Programme Directors Awards. He was also recognized by Construction Canada Magazine as an Emerging Leader at their inaugural award ceremony in 2019.





Tom Newton, CCCA
Tom has been a CSC member since 1990 and a participant in the design and construction industry for over five decades! He became a Certified Construction Contract Administrator in 2003 and is presently an independent specifications consultant working on a wide spectrum of projects ranging from tenant improvements to major new infrastructure projects such as hospitals and care facilities.

Tom has volunteered at CSC as well as other industry related associations and committees throughout his career; always giving back and strongly believing in and supporting the aims and objectives of CSC. Members of the Calgary Chapter are not strangers to Tom's dedication and commitment. He has rendered services and support to the Calgary Chapter Executive, and never shies away from providing assistance at Chapter events. At the Association level, Tom has served on the Technical Studies Committee, Tek-Aid Subcommittee, Conference 1992, 2002 and 2013 committees in various capacities, served on the Editorial Advisory Board for Construction Canada Magazine for numerous years and has taught our Principles of Construction Documentation Course and Technical Representation Course.

He has also been the Calgary Chapter's liaison to both the Calgary Construction Association and the Alberta Roofing Contractors Association. Tom was also a trustee of the CSC Alberta Section Training Trust Fund and a regular contributor to the Calgary Specifier (newsletter).

Tom has received many accolades for his involvement with CSC which include multiple Chapter Awards of Merit, National Award of Merit in 1995 and multiple Programme Director's awards for his service, dedication and commitment.